Aryaka Managed SD-WAN as a Service
Aryaka and Veryx Managed SD-WAN as-a-Service
A majority of enterprises are in the midst of major digital transformation and leveraging cloud is often cited as a top three priority as the 2021 State of the WAN survey report confirms.
Today's mission critical enterprise applications are not only accessed from data centers, but also often require to have WAN connectivity over cloud to IaaS, PaaS and SaaS. To enable such connectivity, enterprises have the choice of either constructing their own WAN infrastructure by sourcing from multiple vendors or consume them from network service providers. Both the options source technology from multiple vendors which adds to cost, complexity and time-to-market.
Veryx has partnered with Aryaka to offer its 24×7 Managed SD-WAN as-a-Service to address the above challenges.
Aryaka's SmartServices Platform
Aryaka's fully, end-to-end managed SD-WAN delivered as-a-Service offers a path forward for enterprises to not only confront these transformation challenges but thrive and turn them into opportunities for innovation and growth. Aryaka's SmartServices help enterprises with Multi-Cloud connectivity and achieve increased application performance.
Aryaka's SmartServices offer connectivity, application acceleration, security, cloud networking and insights leveraging global orchestration and provisioning.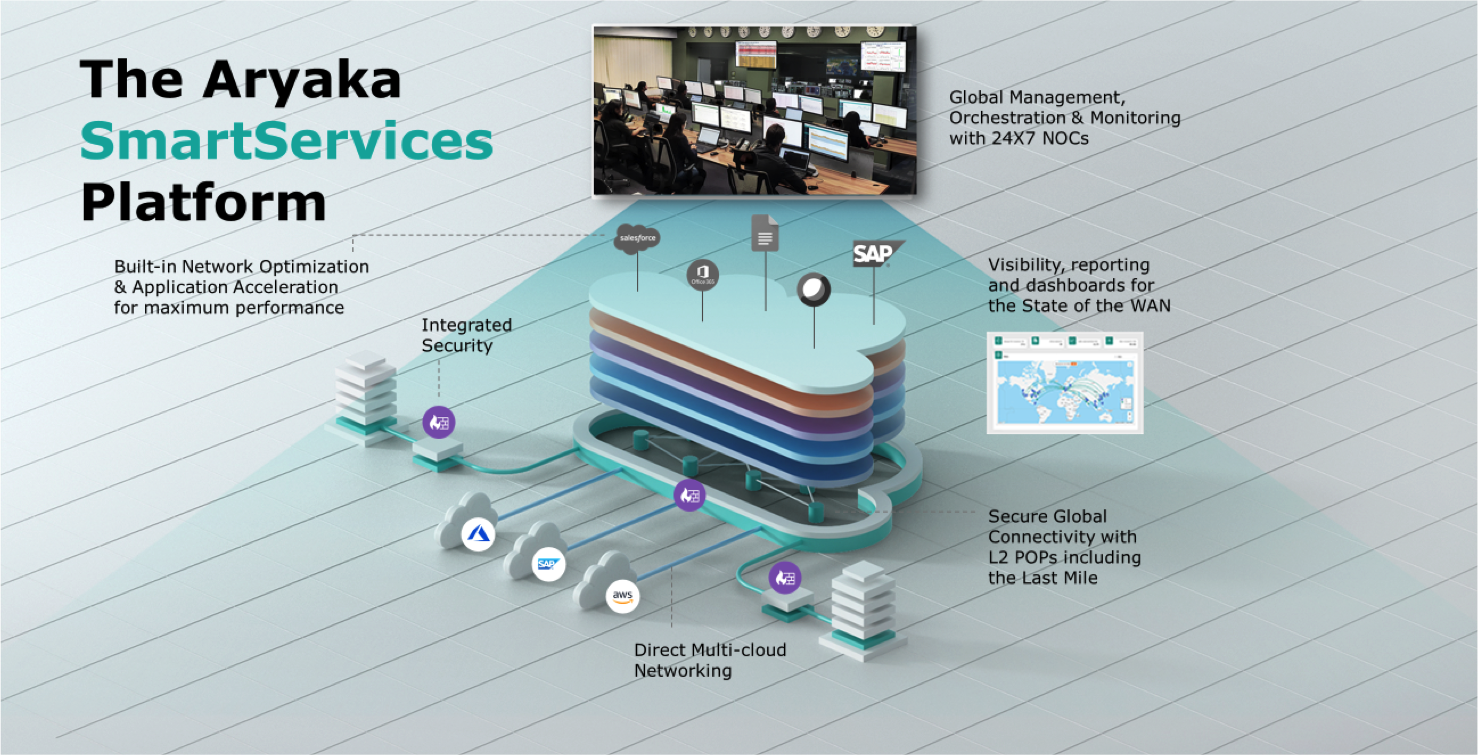 Aryaka SmartServices Benefits
Aryaka's Managed SD-WAN as-a-Service is an end-to-end solution built for a cloud-first world. The Cloud-First WAN implies time-to-market, operational simplicity, multi-cloud readiness, all enabling an unparalleled end-user application experience
The Aryaka SmartServices platform delivers the following benefits:
Secure Global Connectivity with L2 PoPs including the Last Mile
SD-Branch solution with Integrated Security
Built-in Network Optimization and Application Acceleration for maximum performance
Visibility, Reporting and Dashboards
Global Management and Orchestration
Direct Multi-Cloud Networking
Please enter your details to access this document
This document will be sent to the email address you have entered below.