Visibility and Proactive Governance for Cloud
Cloud & Data Center
Cloud and data center providers face challenges in ensuring SLAs and to quickly determine performance bottlenecks, since their service capabilities are derived based on distributed and dynamic services inter-connected over WAN. Also, visibility of inter-VM traffic can often become challenging since physical visibility solutions are incapable of supporting visibility in virtual networks.​
​If Cloud and data center do not address these challenges, the result is often service degradation, poor user experience and unauthorized data access, leading to business impact and continuity. Thus there is a need for solutions that detect and diagnose network anomalies and performance issues.​
​To explore Veryx Cloud & Data Center solutions further, click on the application areas below:
IT Infrastructure Monitoring - Server Monitoring, Network Monitoring
Visibility for Cloud, Data Center and Network Services
Solution Overview
Today's mission critical business services rely on their IT infrastructure – network, servers and applications whether on-premises, cloud and in a hybrid environments. End users using these applications and services expect a trouble-free experience and depend on their IT team to ensure performance and availability.​​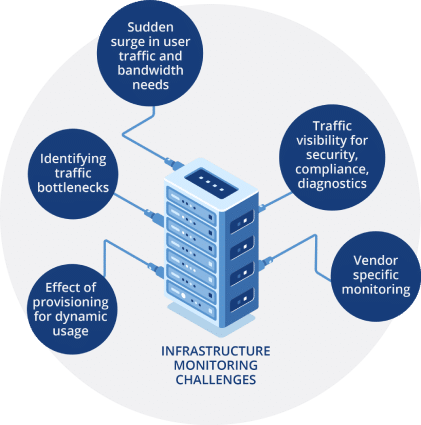 Since potential problems may be lurking anywhere – in applications, servers or the network, data center and enterprise IT teams need the right tool to monitor the performance and availability of their IT infrastructure and easily understand the root causes of the problems. Downtime could cost the business a lot of money, if IT teams don't respond detect and fix the problems quickly.
​Veryx Cloudmon ITIM takes the guesswork out of your operations, with a proactive infrastructure monitoring and diagnostic solution that covers:
​• Performance and health of all servers & network devices
• Network congestion and hop-by-hop analysis
• Availability of network links, network devices and Servers
Save cost and effort with Cloudmon ITIM

Cloudmon ITIM provides IT infrastructure and network monitoring for ​
​Data Center​​ & Private cloud
Public cloud​
Enterprise NMS
Cloudmon Features
Cloudmon ITIM provides IT administrators a unified, vendor agnostic, end-to-end view of the infrastructure and its health. Cloudmon ITIM monitors physical servers, virtual machines, and physical & virtual switches providing:​
A 360-degree visibility across the compute, network, and applications elements of your data center​​
Real-time performance management of your physical and virtual infrastructure​​
Realtime performance monitoring, KPIs – latency (min, max, avg and 95 percentile), jitter, and loss and availability of infrastructure.​​
Realtime SLA monitoring, sampling rate ranging from 1 second to 5 minutes​​
Auto-diagnostics on SLA violation​​
Reporting and alerts on data center health, performance, and storage capacity​​
Health monitoring of network devices – temperature, fan speed, and power supply​​
Automated configuration management for multi-vendor network devices​​
Advanced network trouble shooting for on-premises, hybrid, and cloud services with critical path hop-by-hop analysis.​​
High availability​​
Reporting and alerts on data center health, performance, and storage capacity​​
Ability to customize and extend monitoring to virtually any SNMP-enabled device​​
Network Traffic Visibility
Network Traffic Monitoring for Data Centers
Cloud and Data Center providers are dependent on the reliability of network links connecting their customer sites and as well as their data center locations. Often though they invest in expensive bandwidth, the reality is that unless they monitor and ensure the performance of these links on a continuous basis, they are likely to face performance hits. Live monitoring of network links and applications ensures that performance degradation and downtime is minimized on customer applications.​
​With Veryx Cloudmon NTM, cloud and data center providers get 100% network visibility and analytics of all traffic across their IT infrastructure.​
​Veryx Cloudmon NTM passively monitors the network using Veryx virtual and physical probe agents to collect packet, application, and transaction data for continuous monitoring and fast troubleshooting, from data center locations.​
Cloud Visibility
Traffic Visibility for Private Cloud and Data Center Providers
Private Cloud and Data Center providers require visibility of traffic for purposes of security, governance and diagnostics. But when it comes to virtual infrastructure, visibility of E-W or inter-VM traffic cannot be provided using traditional monitoring methods of SPAN/mirror ports or physical TAPs in virtual environments.​ ​
Veryx vTAP provides complete visibility of inter-VM traffic. Traffic that is tapped by Veryx vTAP could be sent to Veryx or third-party analyzers. Multiple data streams from Veryx vTAP and physical TAPs may be sent directly or via a network packet broker (NPB) to the analyzers.​ ​
Veryx BrightVue NDR analyses network traffic for threats and anomalies. It also tracks conversations in the network, as well as user and asset behavior.​ ​
With a holistic view of network and application performance, plus the ability to contextually drill into domain-specific details, Private Cloud and Data Center providers are able to have better visibility of the traffic.​ ​
Visit Veryx vTAP and Veryx BrightVue NDR for more information.