Solutions for Enterprise IT and Network Monitoring
Enterprises
IT teams in today's digital businesses face tremendous challenges in ensuring the performance, security and availability of their infrastructure for mission critical applications. As a result, there is a great demand for enterprise IT visibility and monitoring solutions.
Given the dynamic nature of today's applications and the need to run them on-premise as well as off-premise on cloud environments, troubleshooting application performance can be like looking for a needle in a hay-stack. IT teams need solutions they can depend on to monitor and diagnose performance while also meeting security and compliance requirements of mission critical applications running in physical and virtual resources.
Veryx provides comprehensive enterprise IT visibility and monitoring solutions based on its products.
Veryx also offers third-party Multi-cloud and SD-WAN networking as part of its solution portfolio for enterprises.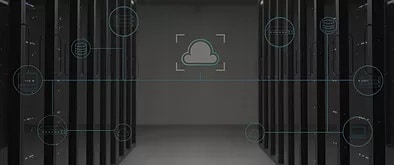 IT Infrastructure Monitoring - Servers, Networks and User devices
Based on Veryx Cloudmon ITIM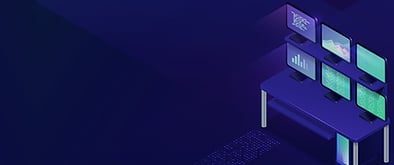 Network Traffic Visibility and Digital Experience Monitoring (DEM)
Based on Veryx Cloudmon NTM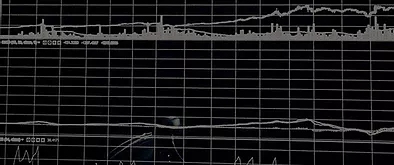 Cloud Visibility
Based on Veryx vTAP and Veryx BrightVue NDR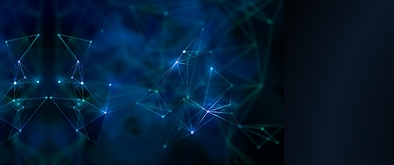 SD-WAN Network Services
Based on Aryaka 24×7 managed SD-WAN
IT Infrastructure Monitoring - Server Monitoring, Network Monitoring and User Device Monitoring
Infrastructure monitoring for mission critical enterprise networks
Today's mission critical business services rely on their IT infrastructure – network, servers and applications whether on-premises, or in a hybrid IT environments. End users using these applications and services expect a trouble-free experience and depend on their IT team to ensure performance and availability.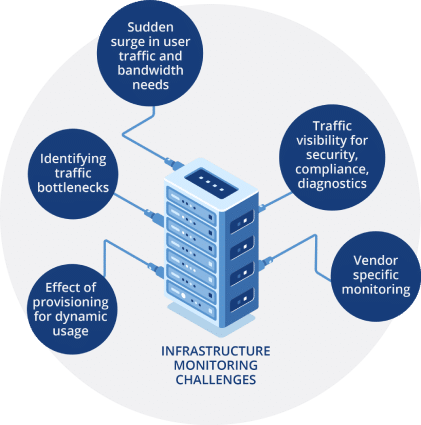 Since potential problems may be lurking anywhere – in applications, servers or the network, data center and enterprise IT teams need the right tool to monitor the performance and availability of their IT infrastructure and easily understand the root causes of the problems. Downtime could cost the business a lot of money, if IT teams don't respond detect and fix the problems quickly.
​Veryx Cloudmon takes the guesswork out of your operations, with a proactive infrastructure monitoring and diagnostic solution that covers:
Performance and health of all servers, network devices and end user devices
Network congestion and hop-by-hop analysis
Availability of business critical applications and resources
Cloudmon ITIM Benefits
Cloudmon ITIM is a highly scalable and easy-to-use IT Infrastructure monitoring and NMS that addresses all IT and network management needs of large enterprises, as well as mid- and small-sized networks. Purpose-built to be user friendly, Cloudmon ITIM provides all the details of servers (physical/virtual), networks, fault, and performance statistics, and generates intelligent conditional alerts to notify you when there are network issues and faults. Cloudmon ITIM addresses all the major concerns of large enterprises in their search for an optimal and affordable IT Infrastructure monitoring and NMS in one tool.

Improved ROI by saving a huge amount of time and effort through automated alerting and reporting, facilitating faster troubleshooting.
Reduced TCO even as you continue to grow and use the product for many years.
Highly scalable to accommodate network monitoring requirements of any-sized network, and any number of devices from hundreds of vendors and manufacturers.
Supports distributed monitoring to enable managing multiple locations from centralized location.
Advanced network trouble shooting for on-premises, hybrid, and cloud services with critical path hop-by-hop analysis.
Installs, and starts monitoring within an hour, giving you ready-to-use functionality
With Cloudmon ITIM, enterprises are able to monitor their network infrastructure from a single pane of glass, using on any web browser interface, enabling them build their own customizable network operations center(NOC).
Network Traffic Visibility and Digital Experience Monitoring
100% traffic monitoring for the enterprise
Enterprises running mission critical applications are highly dependent on the reliability of network links between their sites and data centers or cloud. Often though enterprises invest in expensive bandwidth, the reality is that unless they monitor and ensure the performance of these links on a continuous basis, they are vulnerable to face performance hits. Added to this, there could be bottlenecks occurring at the application level or even in the end-points. Live monitoring of end-points, network links and applications should ensure that performance degradation and downtime is minimized on applications for businesses whether for medical, financial, retail, manufacturing etc.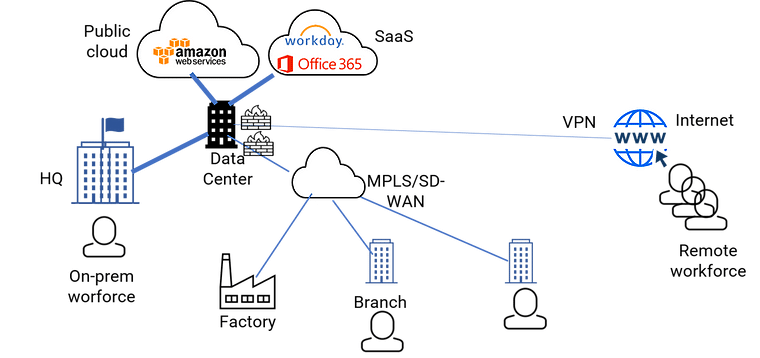 Figure 1 : Enterprise Use Case
With Veryx Cloudmon NTM, enterprise businesses get 100% network visibility and analytics of all traffic across their mission critical infrastructure – whether on-premise or cloud.
Veryx Cloudmon NTM passively monitors the network using Veryx virtual and physical probe agents to collect packet, application, and transaction data for continuous monitoring and fast troubleshooting, from data centers, branches offices, and cloud VPCs. It provides end user digital experience monitoring (DEM), thus enabling network administrators to know exactly how end users are experiencing the applications and the network.
Cloud Visibility
Traffic visibility for Security and Compliance
Enterprises require visibility of their traffic for purposes of security, compliance or troubleshooting. But when it comes to their data center or cloud based applications, visibility of inter-VM/VNF traffic cannot be provided using traditional monitoring methods of SPAN/mirror ports or physical TAPs in virtual environments.
Veryx vTAP provides complete visibility of inter-VM/VNF traffic. Traffic that is tapped by Veryx vTAP could be sent to Veryx BrightVue or third-party analyzers. Multiple data streams from Veryx vTAP and physical TAPs may be sent directly or via a network packet broker (NPB) to the analyzers:
Veryx Cloudmon NTM
provides visibility of the traffic in the network by analyzing packet, application, and transaction data for continuous monitoring and fast troubleshooting.
Veryx BrightVue XDR
provides 360° cyber security monitoring, correlating data from the network as well as the perimeter and
end points.
Veryx vTAP provides complete visibility in public cloud as well and thus supports both cloud-native and hybrid environments, with the collector being placed either on-premise or in cloud.
With a holistic view of network and application performance, plus the ability to contextually drill into domain-specific details, Enterprises are able to have better visibility of the traffic, whether for security, compliance or troubleshooting.
SD-WAN Network Services
Drastically improved end user experience with better application performance
Aryaka's managed SD-WAN-as-a-Service from Veryx
Veryx is partnering with Aryaka to offer its 24×7 Managed SD-WAN-as-a-Service to enterprises.
Aryaka's Managed SD-WAN-as-a-Service is an end-to-end solution built for a cloud-first world. The Cloud-First WAN implies time-to-market, operational simplicity, multi-cloud readiness, all enabling an unparalleled end-user application experience.
Aryaka's SmartServices offer connectivity, application acceleration, security, cloud networking and insights leveraging global orchestration and provisioning.

Aryaka offers its SD-WAN-as-a-service on their own global private core network, similar to a cloud-based consumption model. Aryaka managed service encompasses connectivity with local loop SLAs based on 99.99% uptime guarantee.