Abstract: As Carrier Ethernet service providers rollout newer services for Ethernet Business Services and Ethernet Backhaul, they would no doubt need to ensure the integrity of their circuits while keeping network downtime to a minimum. It becomes imperative that they are equipped with the right tools to benchmark these services to industry standards, while facilitating rapid turn-up and trouble shooting of the services.
In the first part of this two-part article, we describe a few scenarios that highlight potential issues that could typically arise in CE networks. The second part of the article will delve further on the challenges of comprehensively testing such networks before turn-up.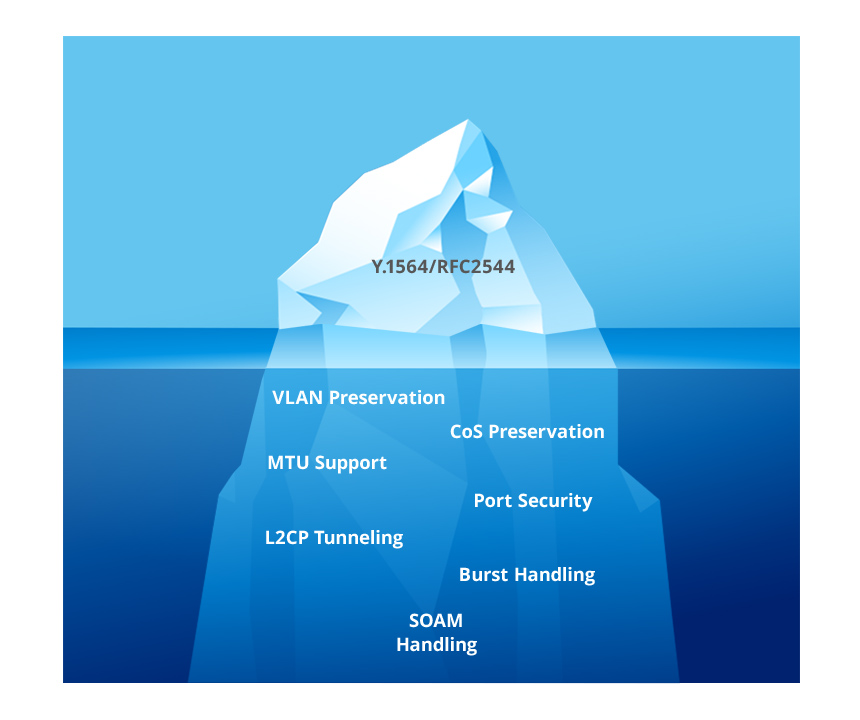 Often Carrier Ethernet service providers rely on either ITU-T Y.1564 or RFC2544 tests, to check network integrity before service turn-up. But these tests however though necessary, are not sufficient to ensure service verification in CE networks.
Experience shows that like the proverbial "tip of the iceberg", there are a number of other problems that could potentially lie undetected until customers start using the network. Configuration mismatches and equipment interoperability issues can result in a number of problems relating to VLANs, CoS, burst handling, security, etc.
The cost and effort of truck rolls for resolution of these issues tend to be high. The resulting decline in customer loyalty due to service disruptions is obvious.
In the first part of this article, we will examine a few scenarios where such issues could arise and what the resulting impact would be.
VLAN Preservation
When one of the devices in the network is configured with wrong VLAN mapping, it results in the wrong VLAN traffic being received at the other end of the circuit, resulting in unpredictable traffic behavior. The process of isolating the specific device which was configured with the wrong VLAN mapping could be quite cumbersome using just packet dumps. Moreover, when such an issue is detected after the circuit is turned-up, trouble resolution process can be time-consuming, resulting in service disruption to customers.
Class of Service:Similarly, the Class of Service information which is carried over the packets in the 3-bit Priority Code Point (PCP) information is also prone to be misconfigured during circuit creation. As a result, the Class of Service policies will be inappropriately applied in the misconfigured nodes i.e., it can result in more bandwidth being allowed for data and less bandwidth being allowed for voice. Here again, the time consuming process of examining packet dumps at the other end of the circuit to understand the CoS preservation is necessary to ensure that the QoS policies are consistently applied end-to-end.
Traffic types
While Y.1564 tests verify bandwidth profile parameters such as throughput, frame delay, frame delay variation and frame loss, the tests can pass in many cases due to arbitrary traffic. It is important to ensure that the bandwidth profile parameter values are verified for the right traffic, otherwise surprises could result when customers start using the service.
Frame sizes
While Y.1564 verifies traffic behavior of SLA parameters, it is also important to verify the parameter values for various frame sizes, because different applications using the service would drive traffic of varying frame sizes. So it is important that the circuit behavior is verified for all frame sizes less than the MTU supported for the service, to completely ensure the SLA compliance for all applications using the service. Without such verification, there is always a chance that SLA non-compliance is reported by the customer. The troubleshooting process would be difficult, because the network engineer has to spend time isolating the application for which there is non-compliance, then understand the frame size used by the application and then go about identifying the device in the network which does not support the frame size. It is obvious that such troubleshooting can take extended time.
Given the examples highlighted above, clearly there seems to be a gap in the way Service Activation testing is typically being performed by service providers today. However the reason for less stringent service activation testing today seems to be the unavailability of tools that can assist in performing such comprehensive testing quickly. These tests when performed today, would have to be performed manually taking up a lot of effort and time. Hence service providers may be tempted take the risk of deferring such testing effort until customers report them.
Veryx's Solution
A cost-effective tool such as SAMTEST which provides automated tests that cover these scenarios in a comprehensive manner, with minimal effort from the service activation team, could be a vital asset. SAMTEST provides comprehensive testing for Y.1564 and C.E. 2.0 requirements, with a high level of automation.
Learn more about SAMTEST
About Veryx Technologies
Veryx Technologies provides innovative testing, automation, and monitoring solutions for developing and deploying communication networks. Veryx delivers superior value to its customers through the design, development and deployment of comprehensive, high quality, flexible products in the testing domain. Veryx products are well complemented by the professional services that it offers to its customers.
Learn more about Veryx
About Author
Madhan Panchaksharam is the Senior Manager – Product Management and Marketing at Veryx Technologies. Madhan drives the overall product management and marketing efforts at Veryx. He has close to a decade of experience in the networking industry spanning multiple technologies, including Broadband Access, Carrier Ethernet and Mobile Backhaul. He has a Master's degree in Strategy and Marketing from Indian Institute of Management, Lucknow and Bachelor's degree in Electronics and Communication Engineering from College of Engineering, Guindy, Chennai. Madhan can be reached at madhan.panchaksharam@veryxtech.com.